Dragon trip
ready to fly?


Prepare your flight
The Calais Dragon's travel plan varies throughout the year. Be sure to select the departure of your choice and pay attention to the place of boarding of the trip appearing on your ticket. The journey takes place from the point of embarkation to the next point encountered on the way. In summer, point B is not served. Each flight lasts 45 minutes to an hour, boarding and disembarking included. 
Depending on the season, some trips are round trips (from point A to point A) from the Dragon forecourt to allow the boarding of people with reduced mobility and in particular wheelchairs. On board, a bench can accommodate up to 6 people. Boarding wheelchairs, or access by elevator to avoid climbing steps is possible on these trips by contacting our teams on 03 66 62 60 00 before booking..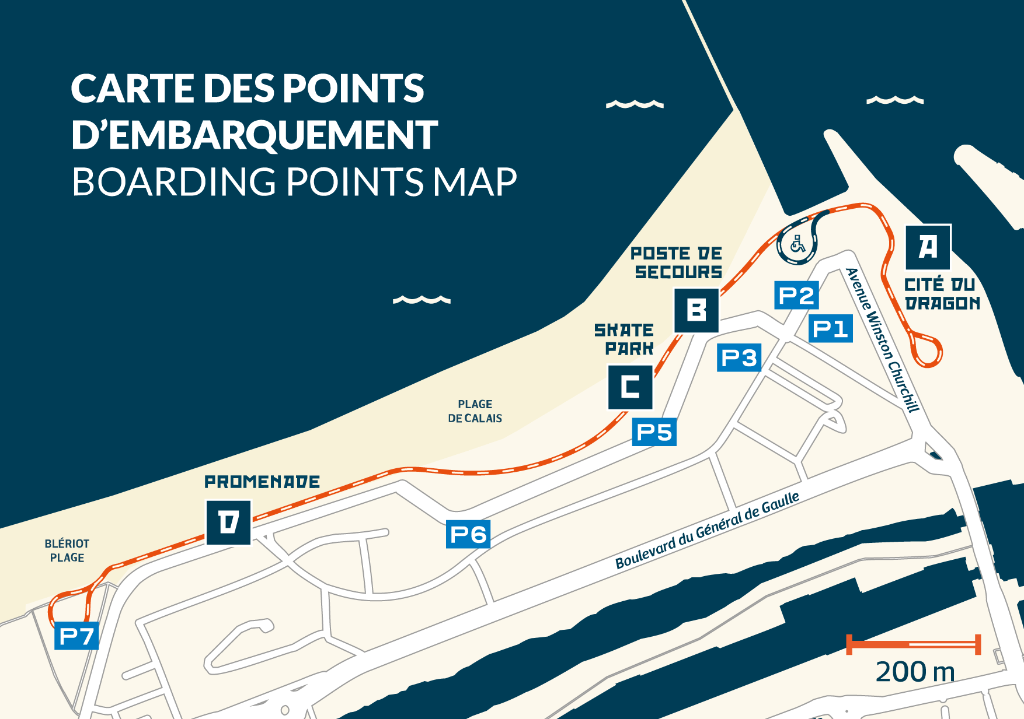 A — Dragon forecourt, 201 Avenue Winston Churchill, 62100 Calais
B — Calais Beach First Aid Station, 123 Digue Gaston Berthe, 62100 Calais
C — Skate Park, Digue Gaston Berthe, 62100 Calais
D — Boardwalk, 900 Digue Gaston Berthe, 62100 Calais
---
EXCERPT FROM TRAVEL CONDITIONS:
Children under 12 must be accompanied by an adult who is of full age on the date of boarding.
Arrive 15 minutes in advance at the boarding point. Boarding closes at the time indicated on the ticket. Please note that depending on travel times, the place of boarding differs. Check the location of your stop on your tickets or ont the map above.
Dragon flight is a standing trip. A few seats are available on the terrace.
Les animaux ne sont pas autorisés à bord, à l'exception des chiens d'assistance. Bagages de grande contenance non autorisés à bord. Poussettes non autorisées à bord.
Non-refundable ticket except in case of cancellation by the company (weather conditions or technical incident). Ticket exchangeable under conditions. Schedules and stops subject to change without notice that cannot result in reimbursement or compensation except in situations that comply with our available general conditions of sale here or at the ticket counter.