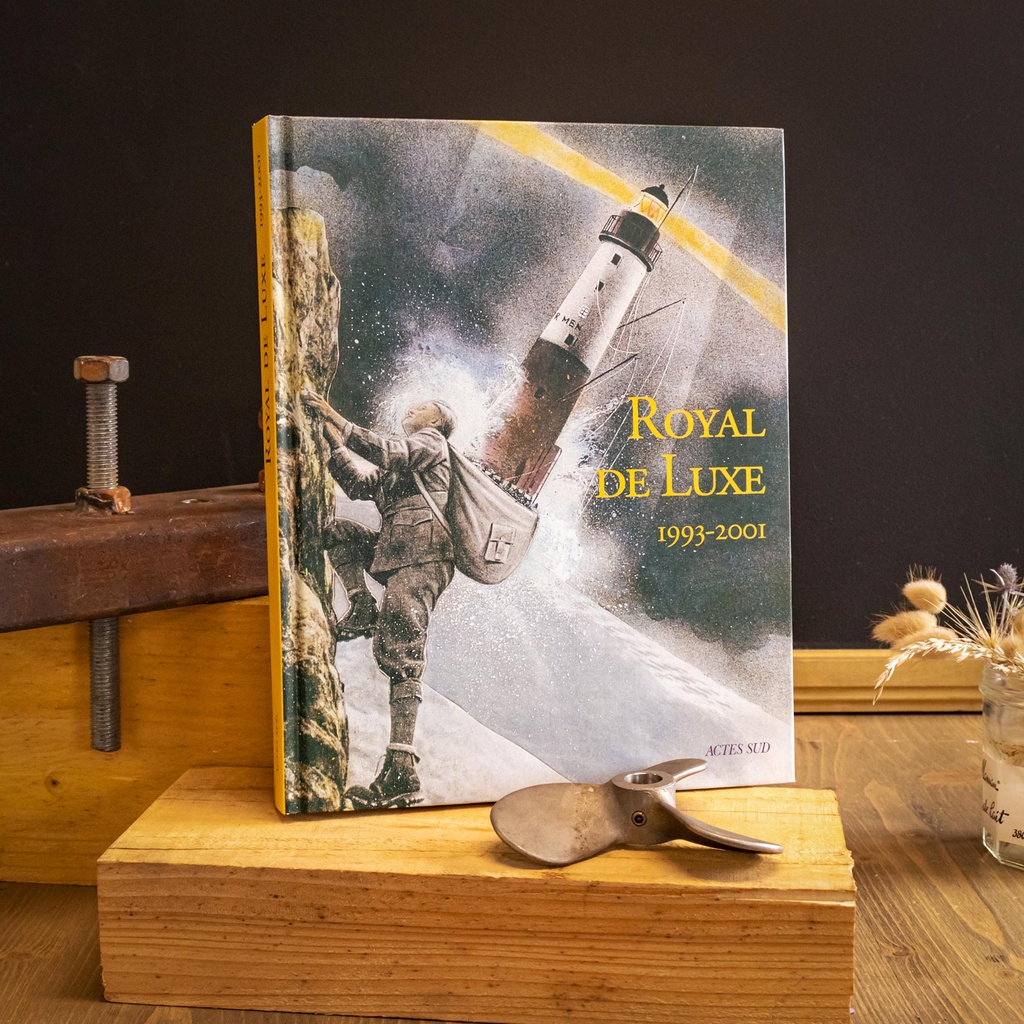 Livre Royal de Luxe
Vingt ans déjà que Royal de Luxe fomente son grand théâtre à trois cent soixante degrés. Des formes intimistes aux spectacles à l'échelle d'une ville, la compagnie n'est jamais là oú on l'attend. au coeur de la saga des géants, ce livre composé de photos de Jordi Bover, de dessins de François Delarozière et d'illustrations de Phéraille, laisse parler Jean-Luc Courcoult, créateur de Royal de Luxe, de ses intuitions, de ses inventions réjouissantes, de ses voyages nécessaires, du public. Odile Quirot et Michel loulergue.

Édition : Actes sud
Nombre de pages : 208
Dimensions : 22,17 x 28,9cm
Deux ouvrages pour parcourir l'œuvre de la Compagnie Royal Deluxe
Premier tome : 1993 - 2001
"Vingt ans déjà que Royal de Luxe fomente son grand théâtre à trois cent soixante degrés. Des formes intimistes aux spectacles à l'échelle d'une ville, la Compagnie n'est jamais là où on l'attend. Au cœur de la saga des géants, ce livre composé de photos de Jordi Bover, de dessins de François Delarozière et d'illustrations de Phéraille, laisse parler Jean-Luc Courcoult, créateur de Royal de Luxe, de ses intuitions de ses inventions rejouissantes de ses voyages nécessaires, du public...." — Odile Quirot Michel Loulergue.
Édition : Actes sud
Nombre de pages : 209
Dimensions : 22,17 × 28,9 cm

Deuxième tome : 2001 - 2011
"Au fil de sa longue histoire, Royal de Luxe – la compagnie est née en 1979 – a investi des gares, des vitrines, des places de village, une rue, un arbre, une rivière, un cargo, des villes entières, et construit ses propres gradins pour certains de ses spectacles. Il lui faut le ciel et le théâtre, allié en une joyeuse hybridation avec la sculpture, la magie, la musique, la parade, le cinéma, le happening, la prouesse technique. Cette compagnie est capable de créer l'effet surprise avec des «Embouteillages,» d'ouvrir les pages gigantesques et en relief de «La Véritable histoire de France »et de raconter une histoire à une ville, sur plusieurs jours, avec des Géants d'une humanité inimitable. À son public, Royal de Luxe offre la joie de la création en direct, du partage, de l'humour, de la prouesse, de l'émerveillement, et de grandes histoires simples longuement mûries, qu'on lira en ouvrant ce livre." — Odile Quirot.

Édition : Actes sud
Nombre de pages : 279
Dimensions : 22,6 × 28,6 cm
Your Dynamic Snippet will be displayed here... This message is displayed because you did not provided both a filter and a template to use.

Fast delivery
Delivery in 6 working days in metropolitan France via Colissimo service
Clic & collect
Order online and pick it up directly in store
Secure payment
We use SSL encryption for secure payments
After sales service
Need help ? We are at your service on +33 (0)3 66 62 60 00